February 2017 Update


"We want a modern, welcoming clubhouse that inspires the community to take a more active role in sporting and social events. A clubhouse that can be used as a hub for local charities, clubs and businesses"
Rainham Cricket Club was established in 1856 and has played cricket at Berengrove Park since 1923. The current temporary clubhouse building was erected in 1975 and is well past its 25 year lifespan. The changing rooms are, in effect, an old barn which has become very dilapidated.   The club has spent a lot of time and money on maintaining the facilities to a reasonable standard, but the buildings will not last much longer. The club is keen to develop as a vibrant, sustainable facility for the local community from both a sporting and a social perspective.
Feb 2017 Update
We are pleased to be able to confirm that with funding in place from Sport England and The English Cricket Board, along with the excellent club fund raising activities, sponsorship and generous donations over the last year, work finally commenced on building the new community pavilion towards the end of last year.  The aim is to get the building up and running in time for the first 1st Team fixture in April, with a formal opening ceremony planned for Sunday 30th April.
Recent progress can be viewed in this short video: You Tube Video
Further updates will follow in due course.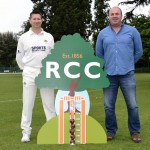 ………………………………………………………………………………………………………………..
Neil McCue
Project Co-ordinator – 07966 209225 – Neilmccue2@virginmedia.com
……………………………………………………………………………………………………………….
Designed and produced by:
Nick Baster  MRICS FCIOB, Logic PM Limited, The Gate House,  Archbishops Palace, Mill Street, Maidstone, Kent.  ME15 6YE
t: 01622 535505  m: 07958 565727,  e: nickb@logicpm.co.uk  w: www.logicpm.co.uk