Aaron Hawkins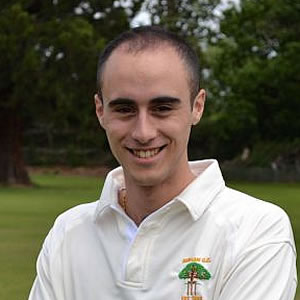 | | |
| --- | --- |
| Name | Aaron Hawkins |
| Birthday | December 31, -0001 |
| Age | 2023 |
| Position | Batsman |
| Appearances | 0 |
| Runs | 0 |
| Wickets | 0 |
| Joined | May 1, 2003 |
| Hometown | |
Profile
Aaron Hawkins – "Cricket with a Smile" by David Wood, May 2014
The smiling, lanky boy from Gillingham has now played in the senior teams at Rainham Cricket Club for a decade and still has the ability to surprise members with some of his performances.
A former pupil at Rainham Mark Grammar School with a flair for figures, it's hardly surprising that after leaving school and spending time at Rochester Independent College he chose to study economics at the University of Buckingham where he graduated with… a B.sc degree.
The nephew of former Gillingham and Rainham batting star Shushil Kumar, Aaron had a modest start when he first appeared in the senior teams. After scoring a few runs and taking a handful of wickets in his first three seasons he began to get noticed in 2006 when he took 58 wickets, 16 catches and scored 363 runs with a batting average of 15.12 for the Second XI.
Aaron showed most early promise as an opening medium pace bowler with a long fluent run up and a perfect action. Although he kept the ball on a fairly consistent length he did not really develop the pace or the penetration to take large amounts of wickets regularly. In 2009 this began to change when he had a best bowling performance of 5-10 then in 2010 he followed this up when he took 39 wickets and scored 931 runs with a highest score of 110 and had a batting average of 37.24. He also came third in the club batting averages. From this moment there was no holding back the tall, thin cricketer with the receding hair line as he matured into a more than useful batsman and began getting chances to shine in the First XI.
In 2011 Aaron had his best season to date with the bat when he scored 1,237 runs with an incredible highest score of 149 not out and a batting average of 45.81. This resulted in him securing top position in the club batting averages and the realization that he would develop into a more successful batsman than a bowler. In 2012 he didn't have quite the same success as in the previous season but he still managed to score 683 runs, a highest score of 65 not out and an average of 25.29 as he finished third in the club batting averages.
A big change took place in Aaron's life in December 2012 when he got involved in a serious relationship with Emily-Jane Brooker. Taking up skydiving, holidaying in Tenerife and leading a full time social life, the up and coming F W Berringer & Co accountant and Rainham batting star only managed 12 appearances for Rainham compared with 35 performances in 2012 and 45 in 2011. He still managed to score 197 runs with a highest score of 50 not out and a batting average of 24.62.
Having scored 4,637 runs, taken 258 wickets and 91 catches since 2003, Aaron Hawkins is at present enjoying life to the full with a great variation of experiences, but it's hoped that he will to continue to find time to appear and get further success with Rainham Cricket Club in forthcoming seasons.