Andy Parkinson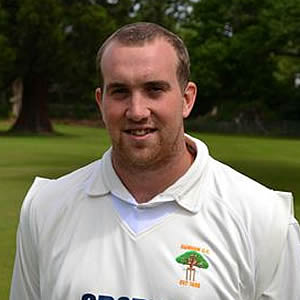 | | |
| --- | --- |
| Name | Andy Parkinson |
| Birthday | May 11, 1989 |
| Age | 34 |
| Position | Batsman |
| Appearances | 0 |
| Runs | 0 |
| Wickets | 0 |
| Joined | April 13, 2014 |
| Hometown | Bexleyheath |
Profile
Andy Parkinson – "With an Eye to the Future" by David Wood, March 2014
A big, solid and gritty opening batsman, Andy Parkinson is fiercely loyal to Rainham Cricket Club and has ambitions to help the club gain greater success in the future as he develops his game.
Joining the club aged ten in 1998, the former Rainham Mark Grammar School pupil worked his way through the different age groups and represented the district at Under-12 and Under-14 levels. Although he didn't make fantastic scores he felt that he learnt a lot from the experience. He went on to study Sports Development and Coaching Sciences at Bournemouth University where he played for the university Second XI and performed alongside some emerging County Championship and Minor County players. In his final year he captained the side in a great learning experience before returning to play more regularly for Rainham and to work as a community sports co-ordinator at Queen Mary College, University of London.
Andy played his first match at senior level for Rainham Second XI against New Ash Green and although he didn't bat he enjoyed the experience. As he got older he had more opportunities and scored his first half century against Lloyds aged 14 in 2002. In a batting partnership worth 140 with James Reeves, the Rainham youngster made a memorable 81. He scored several other half centuries for the club until he hit his first century with 114 not out batting for the Third XI against Littlebourne when he captained the side and hit 858 runs during the season with an average of 22.58 in 2006.
In what he regards as his best innings for the club, Andy hit 91 in a total of 191 against Orpington for the Second XI in 2008 and finished the season with a batting average of 30.67. He also scored a very good 98 against Ashford for the Second XI on a difficult batting track in 2009 and got his first Kent League century for the First XI against Bickley Park in 2013. He had a very good season in 2009 when he scored 839 runs with a batting average of 33.56 although he has still not yet scored 1,000 runs in a season.
With 129 against Gills Travel in 2012 Andy got his highest score to date and has scored at least five centuries for the club since 2006 which includes his recent 113 against RACS in 2013 which showed that when he applies himself he is capable of making big scores.
Although Andy's batting successes have helped his development, he has also had his low points with the worst being in 2010 when he found scoring runs extremely difficult and only managed to accumulate 440 runs with an average of 19.13. Fortunately, this was only a temporary setback as he recovered in 2013 to hit 812 runs with an average of 42.74 and has great optimism that he can do even better in the future.
Apart from his steadily improving batting, Andy has never really seriously tried bowling but he has had his successes in the field with 18 catches in 2006 and 13 in 2003, but his batting concerns him most as he tries to improve on his overall performances. With the dedication that he shows greater success in the future is a strong possibility.
Andy had a great experience several years ago when he visited the Sunshine Coast just north of Brisbane in Australia where he played a season for Nambour Cricket Club. He didn't score many runs due to the extra pace and bounce which didn't suit his batting but he considered the experience worthwhile as he made many friends with whom he still keeps in contact and had a great time down under.
Another aspect of the game in which Andy has been involved since 2004 is the coaching of colts at Under-13 level, the district team at Under-14 level and more recently the coaching of senior players. He feels that he has played some part in the development of Rainham boys who have progressed into the Kent representative teams and have played at a higher level for other clubs in the Kent County League. Andy still remains deeply and passionately involved in coaching at Rainham Cricket Club.
Overall, Andy has enjoyed playing for Rainham and the social aspects that go with it. He has high hopes that he will be able to play a leading part in guiding Rainham into a higher level of cricket in the Kent County League. He also feels that he has begun to get more consistency in his batting and that he should obtain greater rewards in years to come as he sets his sights on the future success of Rainham Cricket Club.