Michael Crew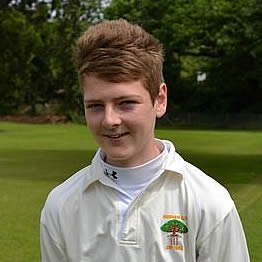 | | |
| --- | --- |
| Name | Michael Crew |
| Birthday | January 1, 1986 |
| Age | 37 |
| Position | Bowler |
| Appearances | 0 |
| Runs | 0 |
| Wickets | 0 |
| Joined | April 13, 2014 |
| Hometown | Rainham |
Profile
Michael Crew – "Deadly Spin Bowler" by David Wood, June 2014
He may not smile very often but the serious teenager from London who supports Fulham Football Club has a hungry eye for taking wickets and has had many batsmen in a spin with 18 wickets already to his credit in 2014.
Now a resident of Rainham and having started playing for the senior teams in 2007, Michael has improved every season to date and he is now a firmly established First XI bowler who is capable of taking wickets on a regular basis.
He may not appear to be a great threat when bowling because of his casual style but the skinny teenager is not an easy bowler for the opposition to score lots of runs against as he strolls in off several yards and gives the ball plenty of height before dropping it on a length with precise accuracy and deadly turn.
His first season of note took place in 2011 when he took 70 wickets with a best performance of 4-9. During that season he experienced success in all aspects of the game, taking 20 catches and scoring runs. His notable batting performances included 65 for the Sunday First XI against Borden when he shared an opening stand of 194 with Alex Peters. He also scored a good 32 not out against Gills Travel.
After 2011 Michael continued building on his successes with 62 wickets in 2012 when he finished second in the club bowling averages and 72 wickets in 2013 when he finished top of the averages and had his best bowling performance with 7-32 in 13 overs against Gravesend Rugby Club. He also took 4-21 against Gravesend Rugby Club in the return fixture, 4-21 against Bapchild and 4-36 against Bromley Town.
In 2012 Michael showed his ability as a batsman when he scored his maiden century in a friendly match against Sheppey Cricket Club. Initially, sharing an important stand of 80 with Jim Austin, the teenager went on to hit seventeen fours in his final score of 100. Overall, he hit 308 runs in 2012 with a batting average of 14.66, his best to date for the First XI. Apart from several exceptions he has not yet had many opportunities to get big scores as he has played for the senior teams since a young age mainly as a bowler and has batted in the lower order, but as he develops he will get more chances and the runs will probably become more plentiful.
Overall, Michael Crew has taken 281 wickets since 2007, he has also taken 60 catches and he has scored 1,176 runs with an average of 11.87. These figures suggest that if he remains with the club he will likely develop into a top class spin bowler and a useful batsman who will play a major part in Rainham successes of the future.