Michael Tyrer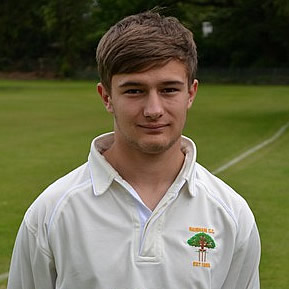 | | |
| --- | --- |
| Name | Michael Tyrer |
| Birthday | November 22, 1996 |
| Age | 27 |
| Position | Batsman / Wicketkeeper |
| Appearances | 0 |
| Runs | 0 |
| Wickets | 0 |
| Joined | May 1, 2004 |
| Hometown | |
Profile
Michael Tyrer – "Cricket Superstar in the Making" by David Wood, February 2014
Born a natural sportsman, Michael Tyrer has already become a cricketing sensation at Rainham Cricket Club with his outstanding wicket-keeping and batting performances.
Having arrived at the club at the age of six, continuous coaching and the chance to play in competitive matches have contributed to his development and successes up to the age of sixteen, mainly in the colt's section of the club but also at senior level.
The young wicket-keeper from Rainham Mark Grammar School showed his promise and signs of great things to come back in 2009 with 23 catches and 9 stumpings but he improved on this with 28 catches and 16 stumpings in 2011, his best to date. He also played for Kent youngsters in 2008 and has represented the Medway District XI in every age group. He has also developed into a very capable batsman at colt's level and from 2010 he began to make big scores with a highest score of 92 in 2010. In 2012 his batting really hit form when he scored 876 runs with an average of 67.38 and a highest score of 117 not out. In 2013 he followed this up with an amazing 1077 runs in 25 innings with a highest score of 186 not out against Sherwood at under 16 level, a record score until Ryan Ward overhauled it with a double century a short time later.
Michael's development caught the eye of the Rainham selectors several years ago and he soon had the opportunity to play for the senior teams, including matches in the Kent League. He lived up to his reputation in the Colt's XI by playing remarkably well and his amazing form continues.
In 2013 Michael scored his first half century at senior level with 50 against Belnor in an opening partnership with Chris Taylor. He followed this up later with a 71 run partnership with David Sherhod against Yalding for the Saturday Third XI.
Always wanting to be a wicket-keeper batsman like Geriant Jones of Kent, his main influence, Michael rates himself a better wicket-keeper than batsman at present but feels that he needs to work more on his batting before he reaches the level that he has set himself. Having already scored several centuries and accumulated over 1,000 runs in 2013, he is already an established wicket-keeper batsman in colt's cricket and is close to it at senior level.
The teenage cricketing sensation has also shown great promise in football as he plays for Rainham Mark Grammar School, Hollands & Blair F.C. and represented Kent at under 16 level in 2012. Although he has ambitions to do well in sport he also has his eyes set on university where he hopes to study politics and international relations when he completes his school exams.
With many successes to date Michael's form shows that the best is yet to come so members of Rainham Cricket Club live with high hopes that this highly talented youngster will rise to great heights and eventually play a leading role in the future success of the club.